Contact Fair-Fusion by sending us an e-mail to info@fair-fusion.eu and we will try to respond as soon as possible. Currently, Fair-Fusion has quarters in the Netherlands in Emmen within the domain of GETEC Park. We speak English, Dutch, Italian and German.
Visitors could find us at:
GETEC PARK.EMMEN – Fair-Fusion
Eerste Bokslootweg 17
7821 AT Emmen
The Netherlands (NL)
Our suppliers could find us at:
GETEC PARK.EMMEN
Nijbracht 8
7821 CA Emmen
t.a.v. Fair-Fusion
inSite gebouw
Kraaienstraat deurnummer 30
---
The inSite building: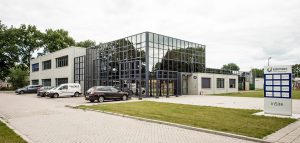 EMMTEC Services provides a re-purposed training building for innovative entrepreneurs. We share this building with various other companies such as Innofil3D, owned by BASF that produces filaments for 3D-printers. EMMTEC services provides for Fair-Fusion workspace and laboratories. Thanks to EMMTEC multiple companies have found a safe haven at the inSite building. If you want to find out more about how important EMMTEC is for Fair-Fusion is please visit the partners' page.